Home

/

Pro Tools | Carbon

---
A NEW BREED OF AUDIO INTERFACE FOR MUSIC PRODUCTION
Built to capture brilliance. And ready for yours.
With superior sound quality and intelligent software integration, Pro Tools | Carbon removes barriers to creativity, so you can bring out the best in your performance and capture it beautifully. Whether using a single interface or a Carbon Expanded system with Pro Tools | Carbon Pre, you can bring the power and sound of Avid's flagship Pro Tools | HDX system anywhere you want to record.

PERFORMANCE
Power and simplicity that drives your creative spark.
With HDX DSP acceleration under the hood and deep Pro Tools integration, Carbon enables you to record, edit, and mix in a single application without bouncing between software. Create in the moment, free from technical hassles. And focus on the music you're making—not what you're making it with.
Carbon is cut from the same cloth as Avid's flagship Pro Tools systems used in the world's most acclaimed studios. Its custom-designed FPGA and eight HDX DSPs achieve remarkable sub-1 ms recording latency and free up your computer to run big, plugin-heavy sessions smoothly.

PRODUCTION
Turn your music into records.
From idea to final mix, Pro Tools is the heartbeat of your studio. And with Carbon turbocharging the experience, as well as a suite of hit-making AAX plugins at your fingertips, you can act on inspiration the instant it strikes.
Plug into an inspired sonic palette.
Shape your sound with a full range of AAX plugins—from warm, dimensional analog emulations, to cutting-edge processors that define modern music-making. In addition to the 116 plugins that come with Pro Tools, Carbon includes a premium collection to get you started from the biggest brands in the business.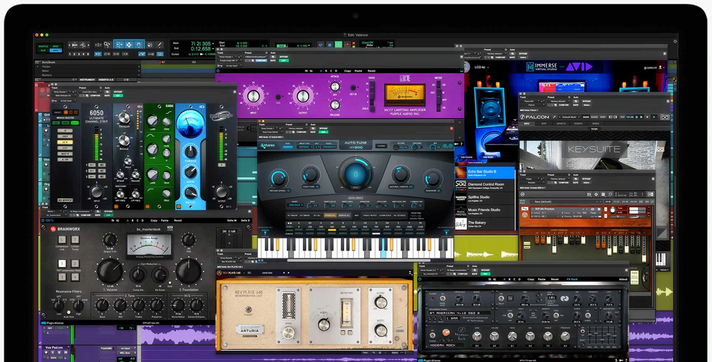 SOUND
Supersonics.
Superior audio conversion. Double resolution clocking. And our most transparent preamp design ever. All details have been meticulously considered so that Carbon captures every nuance of your performance with the greatest depth, dimension, and clarity. All you have to do is push record.
High-resolution clocking. Flawless sound.
Precision clocking is crucial for distortionless, artifact-free audio. That's why we designed a double-resolution implementation of the JetPLL™ jitter elimination technology to ensure the best sound quality for your music. It runs twice as fast as typical JetPLL clocks—and it's twice as accurate.
I/O
Connect the whole band.
Whether you're a solo artist or part of a band, Carbon has your I/O needs covered. With 25 x 34 simultaneous I/O—including eight mic pres and four headphone outs—you can record your entire band. With plenty of creative possibilities for miking, cue mixing, and expansion to meet your needs.

The future is Ethernet.
Carbon connects to your computer over Ethernet using a proprietary version of AVB to stream audio at 32-bit float precision—a first in the industry. This enables a consistently high headroom and the highest possible sound quality from input to output. And it primes Carbon for the future.
---
| | | | |
| --- | --- | --- | --- |
| Do You Have Any Further Questions? | Show Carbon Pre Now | Shop Carbon Now | |
---