Home

/

AUDIO

/

Audient iD44 (MKII) - USB Interface + Monitor Controller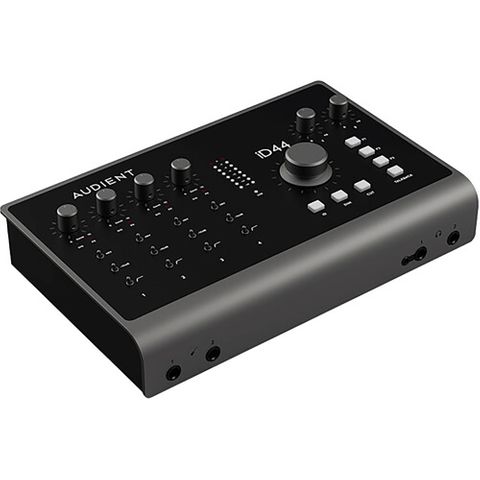 Audient iD44 (MKII) - USB Interface + Monitor Controller
Price:
$1,282.00 (excl. GST)
Description
The best just got better

Audient's most powerful audio interface just got better. The latest generation of iD44 sees improved audio performance, additional must-have features and a beautiful new smoke-grey finish.

The addition of audio loop-back and a dual headphone output, combined with four Audient Console mic pre's, class-leading converters, ADAT expandability and balanced inserts - means iD44 delivers the audio performance of an Audient console straight to your desktop.


Features:



4 x Class-A Audient Console Mic Preamplifiers


Class Leading AD/DA Converters


2 x ADAT Inputs & Outputs for Digital Expansion


2 x Discrete JFET Instrument Inputs


2 x Fully Balanced Inserts


1 x Independent Headphone Output


1 x Independent Dual Headphone Output (1/4" jack and a mini-jack)


Main and Alt Speaker Outputs


Audio Loop-back


ScrollControl


3 x User Defined Function Keys


Dedicated Talkback, Dim and Cut Controls


+48V, Pad, and HPF Switches


Ultra-low Latency DSP Mixer


Word Clock Output


Standalone Mode


USB 2.0 Compliant


24bit/96kHz


All-Metal Design


Power switch


Free Software + Plugins



The professional sound you deserve

Every iD interface features the Audient Console Mic Preamp, the same discrete circuit design found in our renowned recording console the ASP8024-HE. Designed to deliver ultra- low noise and low distortion with a touch of classic analogue warmth, iD44's four Audient Console mic pre's will give you the professional sound you deserve.

Offering an incredible 126dB of dynamic range, iD44's class leading converters have been designed to deliver the most honest and natural translation of your audio, helping you hear subtle detail, identify problematic issues and make better mix decisions. Experience remarkable clarity from the moment you press play.

Even better ADC performance. Just when we thought we couldn't make the original iD44 sound any better, the MKII sees a massive 9dB improvement on the ADC's THD+N figure, meaning clean audio with less added noise and even less audible distortion.


Hardware Integration

Integrate your favourite outboard FX prior to conversion and start creating signal chains that rival the very best. The insert returns also gives you direct access to the A/D converters providing the cleanest signal path possible, making it great for print-backs or integrating outboard line level sources.


JFET Instrument Input

Designed to replicate the input stage of a classic valve amplifier, iD44 features two harmonically rich JFET Instrument Inputs giving you the perfect sonic foundation for your guitars or basses before you hit your amp sims.


Innovation meets communication

iD44's dedicated talkback technology enables you to use any audio source connected to your computer such as a built-in or USB microphone as your talkback mic, freeing up valuable mic preamps for recording.


Audio Loop-back

Now equipped with Audio Loop-back, iD44 can quickly transform into a multi purpose powerhouse. Giving you the ability to capture playback from multiple applications on your computer at the same time as your microphones, Audio Loop-back lets you create a custom audio feed ready to send to your streaming software. Ideal for content creators, podcasters and streamers.


The virtual scroll wheel

Turn iD44's volume knob into a virtual scroll wheel and take control of a variety of compatible onscreen parameters. Quickly dial in settings, adjust faders or even write in automation without spending hours staring at the screen.