Home

/

AUDIO

/

EVO By Audient EVO 16: 24 in/24 out USB Audio Interface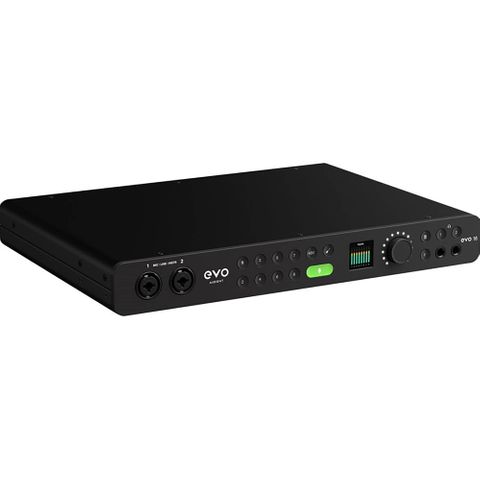 EVO By Audient EVO 16: 24 in/24 out USB Audio Interface
Price:
$864.00 (excl. GST)
Description
Eight award winning EVO Preamps alongside our advanced converter technology will make everything you do, sound better. Add to that, intelligent mic preamps that set their own levels with Smartgain, the all new, groundbreaking Motion UI control system, and enough I/O firepower to tackle even the biggest of sessions, EVO 16 is truly a studio powerhouse, designed from the ground up to make recording easy.




The EVO Mic Preamp

Level up your audio performance with eight sonically stunning EVO Preamps. Backed by 25 years of engineering experience, their analogue mic preamp has been designed to deliver the most accurate, clean, and true to source version of your audio, no matter what you're recording. EVO Preamp technology not only has all the sonic advantages of an analogue mic preamp, but combines it with digitally controlled precision, giving you the ability to set your gain with pin-point accuracy, right down to the decibel.


Smartgain

Make recording drums and larger sessions easy with Smartgain. Automatically set the gain for all 8 channels at once with a simple touch of a button. Powered by our lightning quick Smartgain algorithm, Smartgain uses advanced peak analysis to automatically analyse, adjust and set your gain to the perfect levels – all in less than 20 seconds!


Motion UI

The Motion user interface (UI) has been designed to change the way you interact with your audio interface. For the first time, a stunning high resolution, full colour LCD screen intelligently displays information as you need it, transforming EVO 16 into a fully immersive, easy to use experience.

Every adjustment, every detail, every button press is beautifully displayed in real-time on a 240X240 TFT backlit LCD Screen, letting you navigate hardware features effortlessly, make changes on the fly and take full control of your recording session without ever looking at your computer. Plus, IPS technology means information on the screen remains legible no matter your viewing angle – ideal for a variety of setups.

Pressing an input or output button momentarily displays the channel name, the levels and the functions activated for that specific channel.

Keep an eye on your levels by quickly cycling through your inputs and outputs with EVO 16's crystal clear, full colour metering.


Advanced Monitor Control

EVO 16 takes critical listening seriously and is packed full of monitoring functionality to back it up. Whether you are switching between two sets of speakers using the ALT monitor feature, checking your mix in Mono or quickly communicating with your artist using Talkback – all features can be activated straight from EVO 16's front panel. The best part is you get to customise which control is assigned to the hardware F-button.


View the PDF for full specifications.