Home

/

AUDIO

/

Avid Pro Tools | MTRX 128 Channel IP Audio Dante Card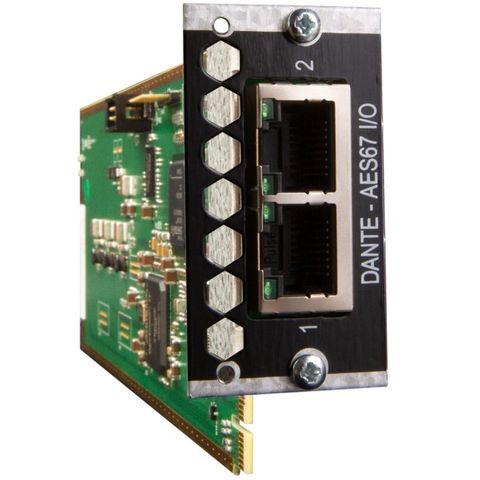 Avid Pro Tools | MTRX 128 Channel IP Audio Dante Card
Price:
$4,131.00 (excl. GST)
Description
The Avid Pro Tools MTRX 128 Channel IP Audio Dante Module allows you to add up to 128 channels of high-density, low-latency digital audio using Dante (128 channels at 44.1 kHz or 32 channels at 192 kHz).

Key Features:

• Dante expansion card for Pro Tools | MTRX audio interface
• Channels: 128 channels at 48kHz, up to 1,024 channels
• Dual Ethernet connectivity, switched or redundant
• Supported sample rates: 44.1kHz–384kHz
• Bi-directional sample rate conversion
• Bridging between networks
• AES67 compatible
• Software integration: compatible with DADman and Pro | Mon for speaker management and control, including saving and recalling configurations

PRO TOOLS | MTRX OPTION CARDS
Pro Tools | MTRX features eight pairs of AES/EBU I/O and 64 channels of MADI I/O in the base unit to get you started, but otherwise comes "empty." This enables you to completely customize the audio interface with up to eight option cards for your unique music and/or audio post workflow needs.

You can mix and match up to six analog I/O cards to support up to 48 analog channels per MTRX interface, design an all-digital box with up to eight digital I/O cards (supporting up to 1,088 Dante channels or 1,216 MADI channels when maxed out with all available cards and modules), or configure it with any combination of analog and digital I/O. And if you're mixing Dolby Atmos or other immersive audio format, the SPQ Speaker Processing Card will optimize your monitoring experience.