Home

/

AUDIO

/

Eartec The CLIP Wireless 2 Person System - Edge Headset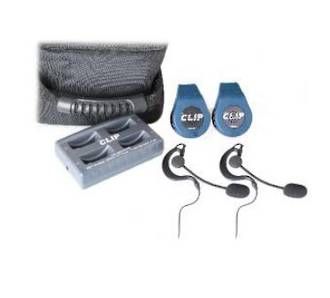 Eartec The CLIP Wireless 2 Person System - Edge Headset
POA
Description
The CLIP™ Wireless System is a professional full duplex intercom for people that need to communicate while working with their hands. This compact system features one "Master" CLIP™ that sets the digital sequence, and up to four "Remote" CLIPs. An unlimited number of Listen-Only CLIPs may be added. The CLIP™ Wireless System utilizes Frequency Hopping Technology to provide professional, simultaneous talk wireless communication within a 200 yard range.

At the heart of each complete system is The CLIP™, a miniature transceiver housed in a protective neoprene enclosure with a heavy duty steel military grade clip. When utilized with Eartec's diminutive headsets, The CLIP™ provides full duplex simultaneous talk operation allowing up to 5 users to communicate hands free.

Unplugging the headset transforms The CLIP™ into a listen only speaker. Unlimited Listen only CLIPs may be added.

Each CLIP™ contains a built-in rechargeable Lithium Battery that will last up to 4 hours on a single charge. Also included is a 4-Port charger that charge the batteries in individual bays. When each battery reaches full charge the corresponding LED turns from red to green indicating that the battery is ready to go.

Cyber Headset . For those folks that prefer a lightweight headset the CYBER is a terrific option. A thin, malleable back band is what sets the Cyber apart from regular headsets. Instead of a standard over the top style headband the Cyber's band actually runs behind the users neck while the miniature speaker sits comfortably on the ear. This unique design is what provides a discreet, unisex fit. Includes Mic Mute Button.

Eartec's Softside Case is included to keep your wireless system stored safely. Constructed of waterproof nylon this headset bag/case includes internal compartments so the items stay organized.