Home

/

AUDIO

/

Avid MBOX Studio 21-in/22-out Audio Interface with Pro Tools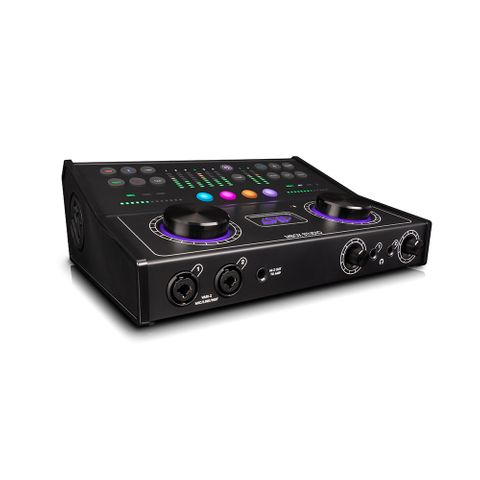 Avid MBOX Studio 21-in/22-out Audio Interface with Pro Tools
Regular Price:
$1,780.00 (excl. GST)
Sale Price:
$1,499.00 (excl. GST)
Description
Bring professional recording power to your personal studio. Powered by Pro Tools Studio, the MBOX Studio USB audio interface provides everything you need to make music and more. From finding inspiration and composing ideas to recording, monitoring, and mixing the next big hit, its intuitive design puts pure creative power at your fingertips, reducing your time to fun.

Check out the videos in this playlist to learn more!


Key Features:



Everything you need to create, record, compose, edit, and mix studio-quality music and audio with a comprehensive suite of included software and plugins: Pro Tools Studio, Sibelius Artist, Celemony Melodyne 5 essential, SoundFlow Cloud Avid Edition, and the MBOX Ignition Pack (see the PDF below for more information)


Get low-latency tracking with built-in EQ, delay, and reverb (Avid FX), plus DSP-based confidence monitoring


Capture and mix sound in pristine quality with premium A/D and D/A conversion


Get all the ins and outs you need to connect your gear in a single USB audio interface:




21 x 22 simultaneous I/O at 24-bit/96 kHz audio conversion (10 x 10 at 176.4/192 kHz)


4 high-quality mic preamps/line inputs with Variable Z (impedance)


2 Variable Z instrument inputs


4 additional line-level inputs


2 impedance-switching effects loops


2-way simultaneous stereo Bluetooth I/O


Optical I/O—8-channel ADAT or 2-channel S/PDIF


Coaxial S/PDIF I/O


MIDI I/O


2 stereo monitor outputs


1 impedance-matched Hi-Z reamplification output (with ground lift) to guitar amp


2 headphone outputs with independent cue mix control and built-in talkback mic


2 footswitch/expression pedal inputs



Gain incredible tonal flexibility with Variable Z impedance switching for mics and instruments


Simplify monitoring with studio monitor control, cue mix capabilities, and integrated talkback


View input and output levels and access a variety of functions right from the interface


Perform frequently used actions fast with a single press using four assignable, dual-function, user action buttons


Check mixes in your car, jam with your iPhone, and connect your AirPods with simultaneous stereo Bluetooth I/O


Change up your guitar tone post-performance by reamplifying a track to any guitar rig


Keep your guitar sounding pitch-perfect with the built-in tuner


Capture and mix dialogue with other sources for podcasting and live streams with Loopback


Use MBOX Studio with Pro Tools, Logic Pro, Cubase, and other popular DAWs



High-End Sound:

With top-shelf components and high-class 24-bit / 192 kHz converters, MBOX Studio gets you on track to sounding your best. Each mic preamp features Variable Z (adjustable impedance) to allow tonal tweaks right at the input stage, +48V phantom power for condenser mics, an input pad to prevent clipping loud sources, a rumble-reducing high-pass filter, and switchable polarity. Thanks to its built-in DSP, MBOX Studio delivers low-latency monitoring with real-time effects, ensuring optimal cue mixes for every tracking session.


All Your Monitoring Needs:

Whether you're the artist or the engineer, you'll always hear the mix clearly. MBOX Studio offers main and alternate stereo monitor outputs with linkable level control, two 1/4" headphone outs that support independent cue mixes, and pro-level monitor switching including mute, dim, and mono sum.
Effortlessly communicate from the control room to the tracking space via the integrated talkback mic and dedicated talkback button.


View the PDF for more information and specifications.