Home

/

VIDEO

/

Datavideo TVS-3000X Tracking Virtual Studio System w/o HTC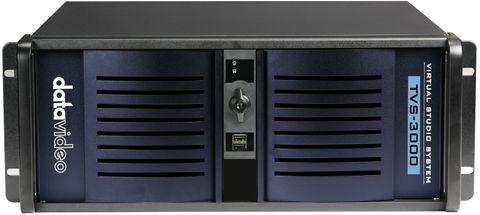 Datavideo TVS-3000X Tracking Virtual Studio System w/o HTC
POA
Description
deliver perfect results while not breaking the bank:
Most virtual studio solutions require expensive designated tracking devices or cranes with built in encoders. These devices are very expensive and require trained and skilled personnel. TVS-3000 uses cost effective trackers from HTC which are also being used in VR setups. These tracking devices can be mounted on your regular crane and deliver perfect results while not breaking the bank!

Support 4K UHD resolution input and multiple input configurations:
Supports up to 8 channels of full HD or 2 channels of 4K mixed resolution input signals, unlimited streaming media input signals with multiple video formats, and input signals from DirectShow protocol device to achieve multi-channel video switching.

3D tracking with AR technology:
customize your virtualset with different styles of objects and materials.

Smart 3D tracking crane:
Replace the traditional tracking crane with low-cost and easy-to-operate advanced 3D tracking crane. The path, panning speed, and shooting time of the camera movement can be adjusted in real-time. The user can set up to 42 virtual shots with different 3D positions and angles in the same scene.

Supports NDI technology:
Supports NDI streaming protocol, no need to set an IP address in intranet transmission, you can simply search for NDI signal sources on your local network and provide two-way transmission. Applied to the TVS- 3000, the function can be used to transmit different contents such as the browser interface, PPT, image, video as the input source in the virtual set or graphic layout, or can be used to send the live broadcast signal of the program to view from the local network.

Professional graphic layout function:
TVS-3000 supports built-in graphic layout that combines input signals, video, images, text, and other contents as a complete editing file. You can choose from any image or video as a background, and add on multiple text content from free subtitle templates.

RMC-285 control panel included:
RMC-285 control panel included for live virtual show and cameras control. Come with 10 function keys (F1-F10), can help to set quick animation, change scene or media content. Making production easier.