Home

/

VIDEO

/

Birddog Bundle: 3x P200 Black PTZ and 1x FREE PTZ Keyboard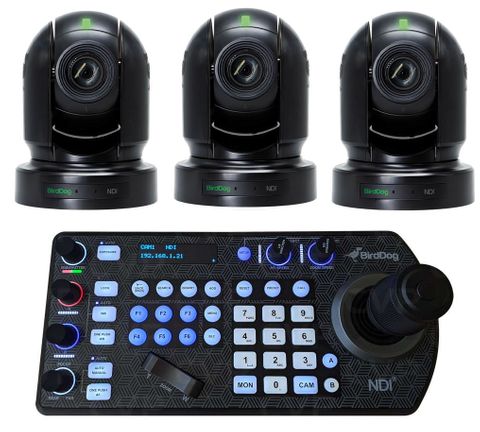 Birddog Bundle: 3x P200 Black PTZ and 1x FREE PTZ Keyboard
Price:
$14,686.00 (excl. GST)
Description
BirdDog P200 PTZ Cameras:

Combining BirdDog's custom NDI silicon chip, 30x optical zoom, and Sony backlit sensor and image module, the BirdDog Eyes P200, in white, is a full NDI 1080p60 PTZ camera designed for large indoor spaces. Thanks to the fast autofocus and zoom ensured by the true Sony image module, the P200 is highly suitable for catching all the fast action in places such as sporting events. As opposed to other types of NDI, such as NDI|HX, which is a compressed variant that reaches 12 Mb/s, the P200 features the visually lossless full NDI variable bit-rate iFrame codec that reaches up to 140 Mb/s at 1080p60.

BirdDog PTZ Keyboard Controller:

Control up to 255 PTZ cameras on a single network with the ergonomically designed BirdDog PTZ Keyboard. The keyboard is compatible with NDI, NDI|HX, Visca over IP, RS-422, and RS-232 protocols, and can also be powered over those same connections as an alternative to DC-in power.

The keyboard features multi-colored and programmable buttons and knobs, and it has a joystick and rocker for zoom control. Control your PTZ camera's exposure, white balance, backlight, gain, shutter, focus, iris, shutter speed, and zoom with the touch of a button or the turn of a knob. You can also set up to 256 memory presets with different parameters and camera moves. The PTZ Keyboard is also compatible with NDI and BirdDog Comms Audio Intercom systems run from a Windows computer.

Offer valid until 30th September 2022.