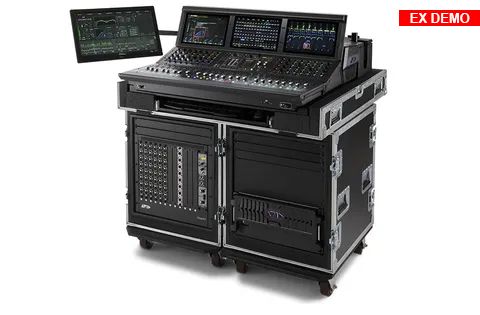 Avid VENUE S6L-24D-192 Live Sound System Bundle (Ex-Demo)
POA
Description
Please note this is an Ex-Demo product - Please enquire now for ex-demo pricing.

If you want to free yourself from technological limitations, Avid's VENUE | S6L puts one of the world's most powerful live mixing systems directly under your command. Sporting a robust E6L-192 engine and Avid's battle-tested VENUE software, the S6L provides you with the processing power to support system scalability, seamless Pro Tools integration, and onboard plug-ins — all with channel counts into the hundreds. That processing power culminates in a sleek yet rugged 24-fader control surface that utilizes a trio of multi-touch screens and customizable workflow to deliver you a totally modern live-mixing experience. And since you can configure your system using a choice of industry-standard networking and I/O components (sold separately), you can easily integrate the VENUE | S6L into the PA you already have or employ it as the foundation of a new system tailored to meet the challenges and demands of any mix situation.

Sporting three multi-touch screens, three banks of eight faders, and two banks of 32 knobs, the VENUE | S6L control surface gives you the extensive mix control that modern live sound mixing demands. The Master multi-touch screen gives you access to the Universe and other pages for main output processing, mix and matrix routing, and many other parameters. A pair of Channel Touch modules provide you with Meters view, various Channel views, and Parameter view. The Master Live central module gives you all the functions you need in a mixer's master section; fader banking, monitoring, recallable fader layouts, user-assignable flex-faders, and more, including a dedicated transport section for easy recording control. Each Channel Fader module gives you eight faders with channel and dynamics meters and channel name displays all with easy-to-see high-resolution OLEDs. You'll also have all of the usual channel controls you need at your fingertips including mute, solo, and safe functions. For total control of your sound, the Channel Knob modules provide 32 touch-sensitive, tri-color encoders for parameter control, individual OLED displays, a switch that allows you to select each knob individually, and one that lets you insert or remove a knob's specific parameter from your signal path.

• Master multi-touch screen
• Master Live central module
• Two Channel Touch modules
• Three Channel Fader modules with eight faders each (total of 24)
• Two Channel Knob modules with 32 knobs each (total of 64)

For more information please get in contact.