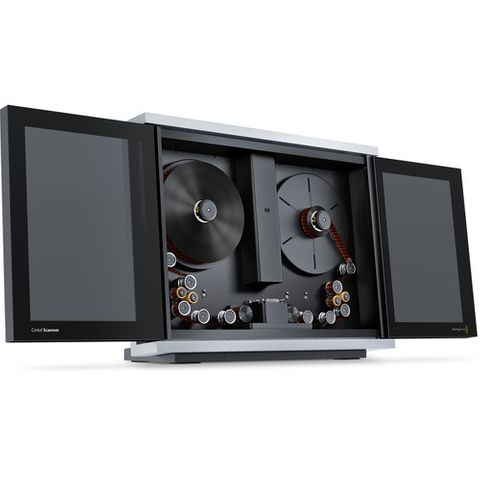 Blackmagic Cintel Scanner 2
POA
Description
The Cintel Film Scanner from Blackmagic Design is a complete solution to real-time film scanning and grading that features precision mechanical film handling components, optics, a high-intensity diffuse light source, and a built in camera. It is designed with an architectural aesthetic and features redesigned digital servos, high intensity diffuse light source and imaging systems, so you get a real-time scanner that scans 35mm film up to 30fps in HD resolution.

The Cintel scanner will scan negative and positive 35mm film into HD quality, and you can unlock the extra resolution from 35mm film natively 4K. The scanner is constructed using aircraft design techniques for a stiff and vibration-free main deck, so you get smooth film handling. The core chassis has been designed as a super rigid structural space frame, which results in a design that's lighter than an older simplistic heavy plate design. This means the Cintel scanner is light enough to be wall-mounted in your facility, making it part of the environment of your color correction suite.

The Cintel Scanner includes a 35mm film gate, film spools, a set of four cleaning rollers, desk mount feet, and DaVinci Resolve 12 Studio software. Cintel transfers film directly to DaVinci Resolve which gives you the power to edit film rolls back together, scans to be color-graded, reframed, noise-reduced, and audio-extracted. Using DaVinci Resolve to operate the scanner means you have much more creative control than a simple telecine because DaVinci Resolve has many more features than is possible to do in hardware.