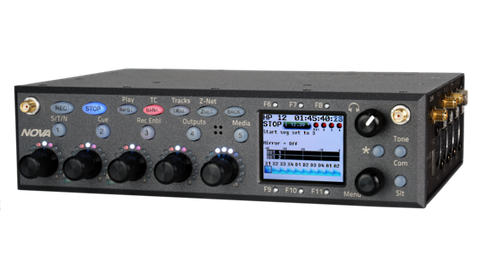 Zaxcom Nova Mixer/Recorder
Price:
$10,311.00 (excl. GST)
Description
The Zaxcom Nova is a combination twelve-channel mixer/recorder, ZaxNet hub and remote control, receiver enclosure, a time code transmitter, and RF scanner in one light and compact device.

With two of the all new MRX414 4-channel receivers you can receive audio from eight separate digital recording wireless transmitters all in a single unit that weighs 3.7 lbs / 1.7 kg.

The Nova features four mic/line NeverClip™ inputs, two line-level balanced inputs, four external AES inputs, and six analog/AES output buses. Two AES42 microphones can connect to the AES inputs and be powered by the Nova. The NeverClip preamps have 140 dB of dynamic range, eliminating the need for limiters that can distort the recorded mix and ISO tracks. Users can record up to 12 channels of audio to two compact flash cards.

At the heart of the Nova is ZaxNet™: Zaxcom's wireless protocol for keeping transmitters and receivers in sync without needing to physically adjust either. From the Nova, you can remotely adjust the transmitter's frequency, preamp gain, and output gain. In addition, the Nova is capable of managing metadata for the files recorded onto the bodypack transmitter's internal SD card. Track names, settings, and timecode are all kept in sync between the main files on the Nova and the backup files on the bodypack transmitter. Time code is automatically jammed between the Nova and each recording transmitter, without the need for jamming via a physical cable. Using this system, mixers can be sure that their files won't become lost, or mismatched, or have incomplete data between the main files and the backups.

The Nova contains two housings for two dual-channel digital wireless receiver modules (sold separately), allowing up to four separate transmitters to connect to the Nova, transmitting a maximum of eight channels of wireless audio. The Nova enclosure provides power and antennas for the receiver module.

Scanning for open frequencies on the Nova puts the transmitters into a non-transmitting mode so an accurate scan can be conducted. Once finished, the receivers can be quickly assigned to new, clean frequencies right from the Nova. Changing the frequency of a receiver channel via the Nova updates the connected transmitter automatically.

Nova uses Zaxcom's MARF recording system to keep your audio safe from corruption. All IFB Audio and wireless audio sent via ZaxNet is fully digitally encrypted for maximum security.

Nova uses two power inputs for redundant operation. No external power distribution is necessary.