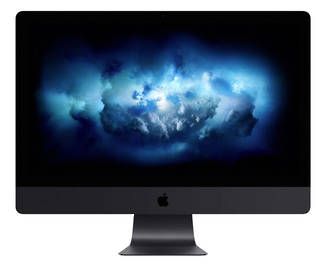 iMac Pro 27in MQ2Y2X/A
Price:
$7,390.00 (excl. GST)
Description
Pros love iMac. So we created one just for you. It's packed with the most powerful graphics and processors ever in a Mac, along with the most advanced storage, memory and I/O — all behind a breathtaking Retina 5K display in a sleek, all-in-one design. For everyone from photographers to video editors to 3D animators to musicians to software developers to scientists, iMac Pro is ready to turn your biggest ideas into your greatest work.
An iMac with 4 cores is remarkable enough. But an iMac with 8, 10, 14 or 18 cores is an entirely different creature. Add Turbo Boost speeds up to 4.5GHz, and iMac Pro has the power and flexibility to balance multicore processing with single-thread performance. With new AVX-512 vector instructions and a new cache architecture, the processor handles even more data — even more quickly. Which means you can render images, edit up to 8K video, manipulate photos, create real-time audio effects or compile your next five-star app — all at lightning-fast speeds.

Featuring Radeon Pro Vega graphics, iMac Pro delivers the best workstation-class graphics of any Mac. The first Mac with Vega architecture features up to 16GB of High Bandwidth Memory, which helps deliver a major jump in performance — up to two times faster than any other iMac GPU and up to three times faster than the GPU in Mac Pro. This translates to higher frame rates for VR, real-time 3D rendering, more lifelike special effects and gameplay at maximum settings. It also supports both single- and half-precision computing, so operations that don't require a full 32 bits of precision can be performed twice as fast. How fast? Up to 22 teraflops fast.

With four channels of memory, iMac Pro can accommodate up to 128GB. So you can visualise, simulate and render huge 3D models. Create multiple test environments for cross-platform development. And keep numerous apps open at the same time. It's all powerful. For all the things you want to do.

Key Features:

• 3.2GHz 8-Core Intel Xeon W processor
• Turbo Boost up to 4.2GHz
• 32GB of 2666MHz ECC memory, configurable up to 128GB
• 1TB of SSD storage1
• Radeon Pro Vega 56 with 8GB of HBM2 memory
• 10Gb Ethernet
• Four Thunderbolt 3 ports
• 27-inch 5120-by-2880 P3 Retina 5K display

Contact us to customise the components of your order.