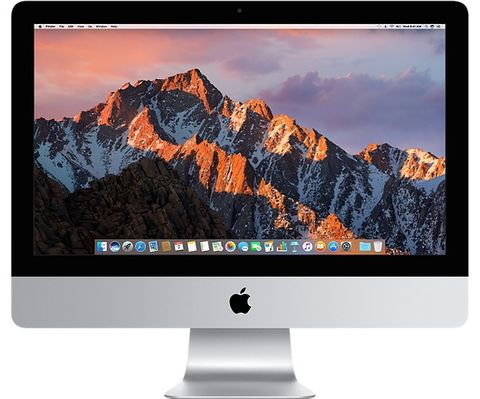 Apple iMac 21.5-inch 2.3GHz (MMQA2X/A)
Price:
$1,607.00 (excl. GST)
Description
A desktop experience that draws you in and keeps you there. This is the idea behind today's iMac. And now that idea is more powerful than ever. The new iMac is packed with all-new processors, the latest graphics technologies, innovative storage and higher-bandwidth connectivity. And it all comes to life on the brightest and most colourful Retina display iMac has ever seen. So you get an even more immersive experience — and a scintillating new way to take it all in.

Faster and more powerful than ever, iMac is now equipped with seventh-generation Intel Core i5 and i7 processors, and the latest high-performance graphics. Storage kicks into high gear as well, with the speedy and spacious Fusion Drive now available in standard configurations of both the 27-inch and 21.5-inch Retina models. So you can do everything you love to do on iMac. All at maximum velocity.

iMac features powerful new Radeon Pro 500 series graphics that make a spectacle of everything you see. The 27-inch iMac with Retina 5K display is loaded with up to 8GB of dedicated VRAM. And the 21.5-inch iMac with Retina 4K display ignites with up to 4GB. Both deliver visual effects and 3D graphics that exhibit raw power in its most polished form. On top of that, you get advanced video editing capabilities. Now you can edit multicam projects in Final Cut Pro X with up to five streams of full-resolution 4K video.

An all-new seventh-generation Intel Core processor in every iMac. It's more speed than iMac has ever reached before — taking the 27-inch model up to 4.2GHz, and the 21.5-inch model up to 3.6GHz. And Turbo Boost gives you even more power when you're using processor-intensive applications like Logic Pro or Final Cut Pro. It all takes place behind the scenes, but you'll see the difference in so many ways.

Key Features:

• 2.3GHz dual-core 7th-generation Intel Core i5 processor (Turbo Boost up to 3.6GHz)
• 8GB of 2133MHz DDR4
• 1TB Serial ATA Drive @ 5400 rpm
• Intel Iris Plus Graphics 640
• Magic Mouse 2
• Magic Keyboard - English

Contact us to customise the components of your order.