Home

/

AUDIO

/

Apogee Symphony I/O Mk II 2x6 SE I/O Module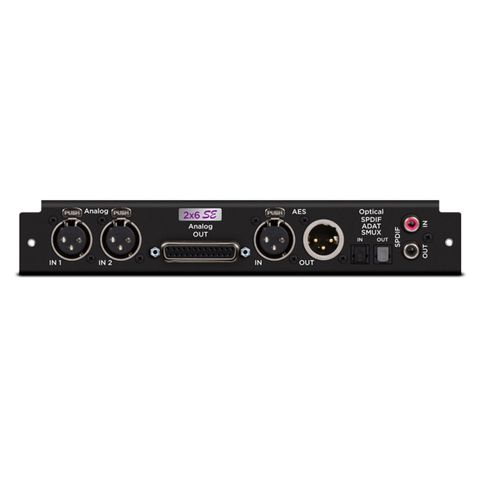 Apogee Symphony I/O Mk II 2x6 SE I/O Module
Price:
$3,599.00 (excl. GST)
Description
Apogee Symphony I/O Mk II 2×6 Special Edition offers the highest quality AD/DA conversion of the Symphony series. Designed specifically for mastering engineers whose critical work demands ultimate sonic performance, 2×6 SE takes advantage of the latest advancements in digital and analog audio technology to offer inputs with 124 dB (A) of dynamic range, THD+N of -116dB and outputs with 131dB (A) dynamic range and an astonishingly low THD+N of -118dB. We dare you to compare these specifications to our competitors – 2×6 SE's combined specs outperform just about any AD/DA converter available today.

The I/O Modules by Apogee are the sound and soul of Symphony I/O Mk II, and represent 30 years of Apogee R&D and design excellence. These powerful Modules deliver Apogee's core competency: superior sounding digital audio recording. With 3 available I/O Modules and an 8 channel mic preamp module, you can choose from base configurations or expand to grow your studio's capabilities.

Symphony's I/O modules are designed to future-proof your investment in flagship Apogee sound quality. If you own an original Symphony I/O, the Symphony I/O Mk II chassis can increase the longevity of your system by offering backwards compatibility with first generation 2×6, 8×8, 16×16 and 8 channel mic preamp I/O modules.